Welcome to UKSZ
Here's a 20 second overview of what we have to offer:
Assisted hosting provides a safe and reliable home for your website and email, without the need for you to become an IT expert in the process.
More info...
The UKSZ Site Builder helps with small business websites. Design it yourself or have us do the donkey work... it's your choice.
More info...
You're not alone! The UKSZ support team will assist with changes to email, web hosting and even your website.
More info....
Latest news
Servers running Munin for live statistics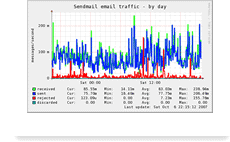 The work load of a web server varies throughout the day and the server monitoring system called Munin has been installed to visually show the current state of play. We're actually hoping to add some of these graphs (the ones that don't show any user specific data) on the support pages (mainly because they're pretty). The health of the servers will be open to all.
New sites live
A handful of sites have recently gone live, each of which has the content managed by SiteBuilder. Take a look if you wish:
http://www.celticteachers.co.uk, http://www.rubypcbdesign.co.uk and http://www.sallystubbings.co.uk
There will be more soon and others are listed in the Website Directory.
For your business...
With UKSZ you can build your own site, with impressive results. You've heard this before, but our home grown SiteBuilder it is possible to design, build and promote a truly professional website... quickly, easily and affordably.
Do you believe this? Well, this very site is built using entirely our own system.
Contact us and we'll tell you more.