Business CRM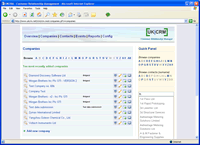 Visit the site for more information
A project, run by UKSZ and Morgan Web, provides a web-based CRM application for small businesses. The features include:
Recording of customers, suppliers and other business contacts, all of which are searchable or browsable
Recording of contacts within companies and organisations, which may include alternative contact details
Ability to associate multiple contacts to a company and multiple companies to a contact
Track all activity, including phone conversations, letters, emails, quotations, orders, support logs and simple notes
Provide a status to all activities and events to assist with prioritising
Consistent 'Quick View' to aid usability
There are two editions - one free and feature-rich edition with support for multiple users.
Please see www.ukcrm.net for more details.